Silicone Medium Flow Nipple for 3+ months*
Plastic Ring + Cap*
8 oz. Translucent Silicone Bottle
*Indicates mason jar-compatible parts.
Benefits:
Lightweight and durable silicone allows for the tiniest hands to comfortably hold.

Shoulder-less design means no hard to clean places, and no need for bottle brushes

Upcycle to a snack cup or squeeze pouch

Silicone is naturally free of BPA, BPS, lead, phthalates, and other harmful chemicals.

Dual-valve FussFreeTM Ventilation system to help prevent gas and colic

We are the only wide-mouth baby bottle made entirely in the USA.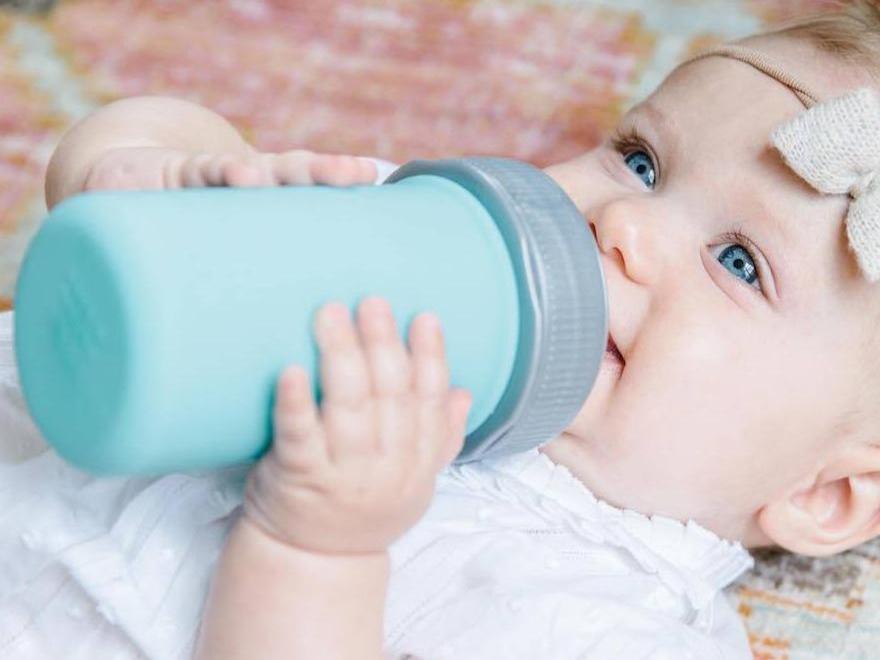 Built-in FussFreeTM Ventilation System
All of our nipples are designed with our FussFreeTM Ventilation System. This dual valve system allows air to be taken in and milk to flow smoothly out with no air bubbles to help prevent gas and colic.
Bonus: Our system is flawlessly built into the top of the nipples, so no special tubes, collars, bags or extra pieces needed!
Will My Baby Take the Nipple?
All babies are different, so it's not humanly possible to design a nipple that works for 100% of babies. This may mean you need to try a couple different bottles for your child.
At Mason Bottle, our return rate is 3%, so there's just about a 97% chance you and your baby are going to love this product.
But just in case you fall into that 3%…we also offer a money-back guarantee.
The Only Bottle with 100% No-Risk Money-Back Guarantee
We've checked the return policies of all the major baby bottle brands, and as far as we can tell, Mason Bottle is the only brand with a money-back guarantee.
All other bottle brands only accept returns on un-used and un-opened products. But how can you know if a bottle really works for your family without trying one first?!
You can't. So we decided to create a new policy that puts families and quality first.